Back
Charles Kalpakian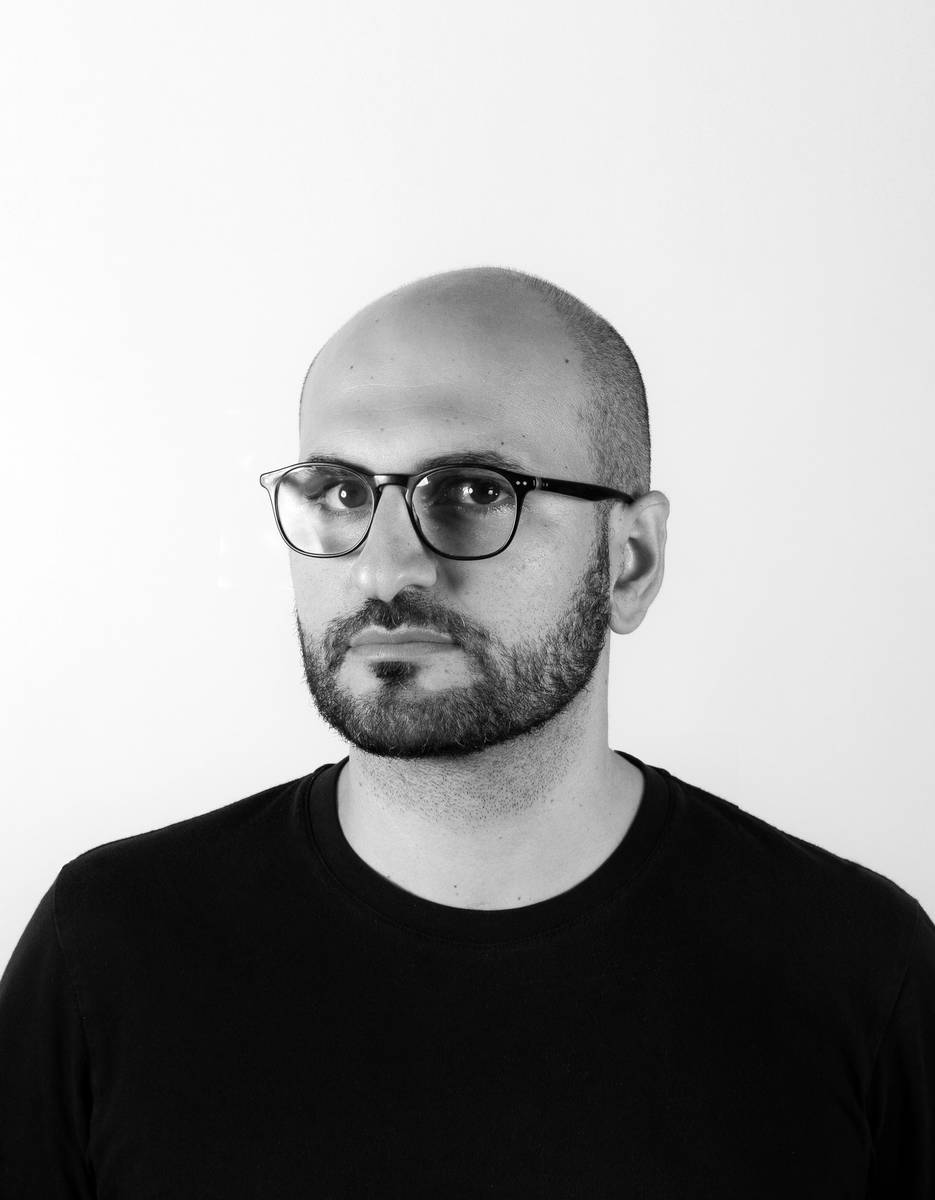 French-Lebanese Charles Kalpakian chiseled geometric lines are the signature of his innovative approach, fusing his Oriental roots and his knowledge of design and the decorative arts. These influences take shape through the reinterpretation of classical patterns, historical forms and archetypal motifs, filtered by a resolute contemporary culture.

Charles Kalpakian has a rare gift for subtly incorporating personal biography into his art, deliberately focusing on certain geographical features and transforming them into powerful decorative tools. His work is distinguished by the mix of traditional French techniques (particularly marquetry) and by his use of a native Oriental identity, as well as a fresh take on the tradition of metalworking. The stroke is always clean, even if the gesture resembles calligraphy in space.

Incarnating the notion of Retrofuturism, the 'Cinétisme' wall light is a hypnotic piece flirting with Op'Art and Vasarely's spirit. This handcrafted, sculptural wall light play on the contrasts and complementarities between four aluminium finishes: brushed, hammered, guilloché, and lacquered. Twenty LEDs lamps are embedded in the aluminium three-dimensional panels, creating areas of light and shadow as well as the illusion of undulating movement, and transforming the calligraphic method of the decorative arts into work that is as functional as it is artistic.

His 'Moon' armchairs and 'Crescent' series of sofas, loveseats and chairs reinterpret the classics with a fundamental futuristic twist. In the 'Crescent' collection, the comfortable crescent shaped design offers soft, pure yet flexible lines enhanced by the contrast of fabrics. The back that resembles a cape envelops the piece enhancing its cozy aspect.

French by nationality, Charles Kalpakian was born in Beirut in 1982 into a family with strong Armenian roots. Over the last decade, he has become a major figure in collector's design, drawing on the tastes of lovers of optical arts and optical illusions expressed in the language of objects. He is best known for his imaginative variations on classical patterns of cabinet design and lighting, using techniques pulled from Minimalism and conceptual sculpture.
Les lignes géométriques ciselées du designer franco-libanais Charles Kalpakian dessinent la signature de sa démarche innovante, fusionnant ses racines orientales et sa connaissance du design et des arts décoratifs. Ces influences prennent forme à travers la réinterprétation de motifs classiques, de formes historiques et de motifs archétypaux, filtrés par une culture résolument contemporaine.

Charles Kalpakian a le don rare d'incorporer subtilement des éléments biographiques personnels dans son art, en se concentrant délibérément sur certaines caractéristiques géographiques et en les transformant en de puissants outils décoratifs. Son travail se distingue par le mélange de techniques traditionnelles françaises (notamment la marqueterie) et par le recours à son identité orientale native, ainsi que par un regard neuf sur la tradition du travail du métal. Le trait est toujours net, même si le geste s'apparente à une calligraphie dans l'espace.

Incarnant la notion de rétrofuturisme, l'applique "Cinétisme" est une pièce hypnotique qui flirte avec l'Op'Art et l'esprit de Vasarely. Cette applique sculpturale, fabriquée à la main, joue sur les contrastes et les complémentarités entre quatre finitions d'aluminium : brossé, martelé, guilloché et laqué. Vingt ampoules sont encastrées dans les panneaux tridimensionnels en aluminium, créant des zones d'ombre et de lumière ainsi que l'illusion d'un mouvement ondulatoire, et transformant la méthode calligraphique des arts décoratifs en une œuvre aussi fonctionnelle qu'artistique.

Ses fauteuils 'Moon' et sa série de canapés, causeuses et chaises 'Crescent' réinterprètent les classiques avec une touche futuriste fondamentale. Dans la collection 'Crescent', le design confortable en forme de croissant offre des lignes douces, pures mais flexibles, mises en valeur par le contraste des tissus. Le dossier qui ressemble à une cape enveloppe la pièce et renforce son aspect douillet.

Français de nationalité, Charles Kalpakian est né à Beyrouth en 1982 dans une famille aux fortes racines arméniennes. Au cours de la dernière décennie, il est devenu une figure majeure du design de collection, puisant dans les goûts des amateurs d'arts optiques et d'illusions d'optique exprimés dans le langage des objets. Il est reconnu pour ses variations imaginatives sur les modèles classiques d'ébénisterie et d'éclairage, utilisant des techniques tirées du Minimalisme et de la sculpture conceptuelle.