Back
FRANÇOIS MASCARELLO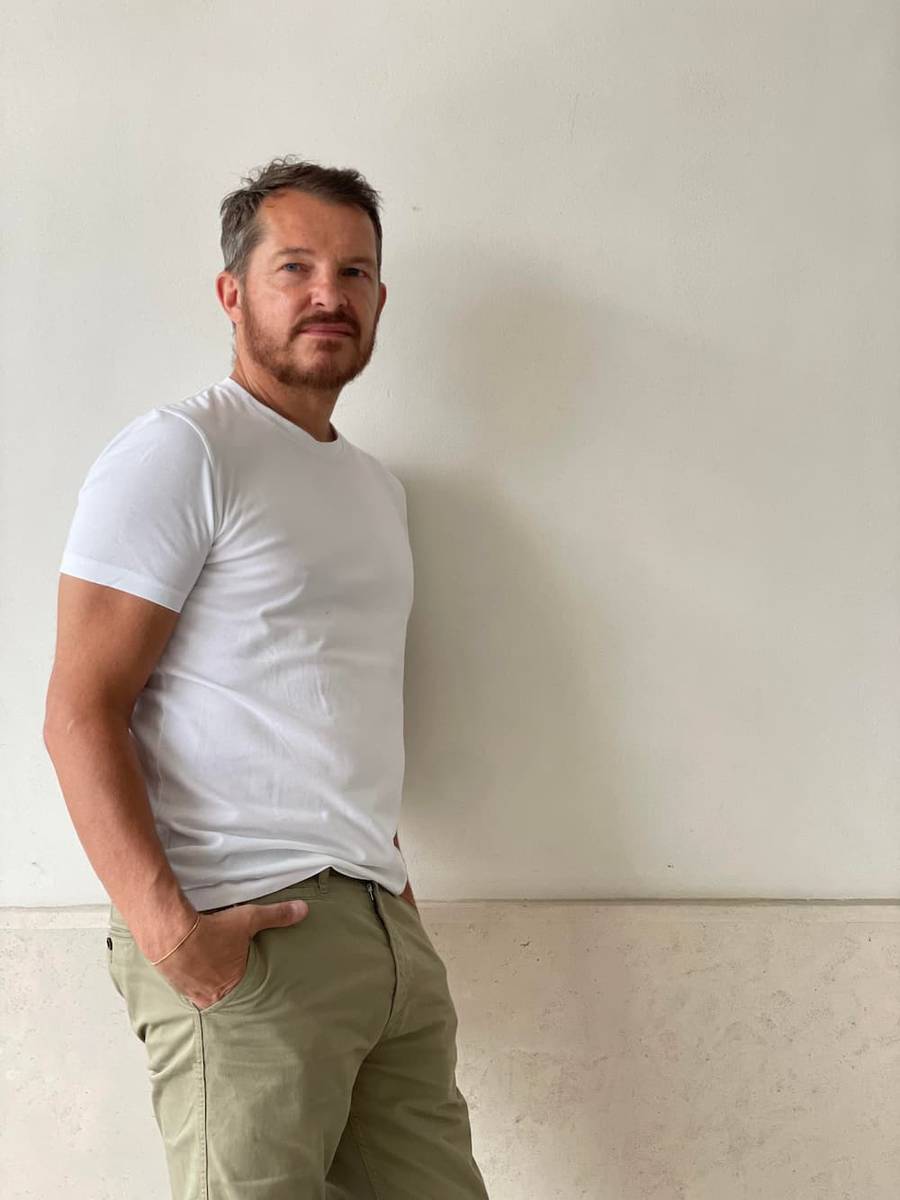 A painter, sculptor, designer, craftsman and explorer of textures and colours, François Mascarello experiments with materials and artistic techniques to translate into space the potency and delicacy conveyed by manual gestures. Thanks to his extensive knowledge of material constraints, he brings to life the emotion essential to any art.

For the first time, the wide range of skills appropriated by François Mascarello are displayed side by side in his solo exhibition taking place in September-December 2023: large seats, desk and bookcase in mineral composite; stucco, ceramic and bronze lights; lacquer marquetry tables and straw marquetry tables; handmade wallpaper and silk tapestry paintings, to name but a few. The concept of a landscape that is both dynamic and abstract is thus embraced two- and three-dimensionally, with perspectives echoing each other to the point of merging within a single creation: a painting that has escaped from the wall to become a functional sculpture.

The emphasis is placed on a monumental object, a true multifunctional landscape which highlights the volumes of the space it inhabits, and more specifically the wall. François Mascarello approaches the bookcase from a novel perspective, turning it into a living landscape that is both visually dynamic and versatile. This micro-architecture, designed around full and empty spaces, is both a showcase and a composition to contemplate. The niches and shelves can welcome books, works of art and treasured objects. A desk and a nomadic seat are incorporated into this landscape-object which is designed to be customised, thus catering to a desire for unique and personalised spaces that allow great freedom of use and interpretation.

In François Mascarello's words: "My painting already tended towards the abstract and quasi-choreographic movement. Today, I have added an architectural impulse, the idea being to explore all possible dimensions: from the smallest to the largest, from the deepest to the brightest, from the most elusive perspective to the most intimate line."

The 'Edifice' light sculptures are both mysterious and refined micro-architectures. Handmade of immaculate white waxed stucco, they are edifices coming alive with light glowing through the different openings. They take on a new and different appearance depending on the angle from which they are viewed: a cubist house in the spirit of Le Corbusier or a skyscraper-like impressive vertical building.

The 'Wild Silk' tapestry paintings are made in three stages. First Mascarello composes an abstract landscape on a computer, before painting it in oil on paper. This work is then converted into fabric. The thin strips of raw silk are cut, then sewn one by one by hand on silk or on white linen, using invisible stitches. The shimmering fabric thus reinterprets the painter's gesture and gives it a new dimension, at once warm, intriguing and tactile.
Peintre, sculpteur, designer, artisan, explorateur de la texture et de la couleur, François Mascarello expérimente les matériaux et les techniques artistiques afin de traduire dans l'espace la force du geste manuel autant que sa fragilité. C'est par sa maîtrise des contraintes matérielles qu'il donne vie à l'émotion essentielle à toute oeuvre.

A l'occasion de son exposition personnelle en septembre-décembre 2023, les savoir-faire très diversifiés réinterprétés par François Mascarello sont présentés pour la première fois en conversation : grandes assises, bureau et bibliothèque en composite minéral ; luminaires en stuc, céramique ou bronze ; tables en marqueterie de laque et tables en marqueterie de paille ; papier peint fait à la main et tableaux-tapisseries de soie, notamment. La notion d'un paysage à la fois dynamique et abstrait se trouve ainsi envisagée en deux et en trois dimensions, ces perspectives se faisant écho jusqu'à fusionner au sein d'un même univers : celui d'une peinture qui se serait échappée du mur pour devenir sculpture fonctionnelle.

L'accent est mis sur un objet monumental, véritable paysage aux multiples fonctions qui propose une mise en scène de l'espace, et en particulier du mur, en volumes. François Mascarello propose de repenser la bibliothèque pour en faire un paysage vivant, à la fois rythmé visuellement et polyvalent dans ses usages. Cette micro-architecture, articulée autour de vides et de pleins, est aussi bien un espace de présentation qu'une composition à contempler. Les niches et les étagères se font écrins pour des livres, des œuvres et des objets aimés. Un bureau et une assise nomade sont intégrés dans cet objet-paysage qui a vocation à être adapté sur mesure, répondant ainsi au désir d'espaces uniques et personnalisés, ouverts à une grande liberté d'utilisation et d'interprétation.

« Ma peinture tendait déjà vers l'abstraction et le mouvement quasi chorégraphique. Aujourd'hui s'y ajoute une pulsion architecturale, l'idée étant d'explorer toutes les dimensions du possible : du plus petit au plus grand, du plus profond au plus lumineux, de la perspective la plus insaisissable au trait le plus intime. »

Les sculptures lumineuses 'Edifice' sont des micro-architectures à la fois mystérieuses et raffinées réalisées en stuc ciré d'une blancheur immaculée. La lumière rayonne et se diffuse par les fenêtres et autres ouvertures. Elles prennent une apparence nouvelle et différente en fonction de l'angle sous lequel elles sont regardées : maison cubiste dans l'esprit de Le Corbusier ou impressionnant bâtiment dont la verticalité évoque les gratte-ciel.

Les tableaux-tapisseries de la collection 'Wild Silk' sont réalisés en trois étapes. François Mascarello compose tout d'abord un paysage abstrait sur ordinateur, avant de le peindre à l'huile sur papier. Cette oeuvre est ensuite transposée en matière textile. Les fines bandes de soie sauvage sont découpées, puis cousues une à une à la main sur soie ou sur lin blanc, en utilisant la technique du point invisible. Le tissu aux reflets chatoyants vient ainsi réinterpréter le geste du peintre pour le faire entrer dans une nouvelle dimension, à la fois chaleureuse, intrigante et tactile.