Back
FRANÇOIS MASCARELLO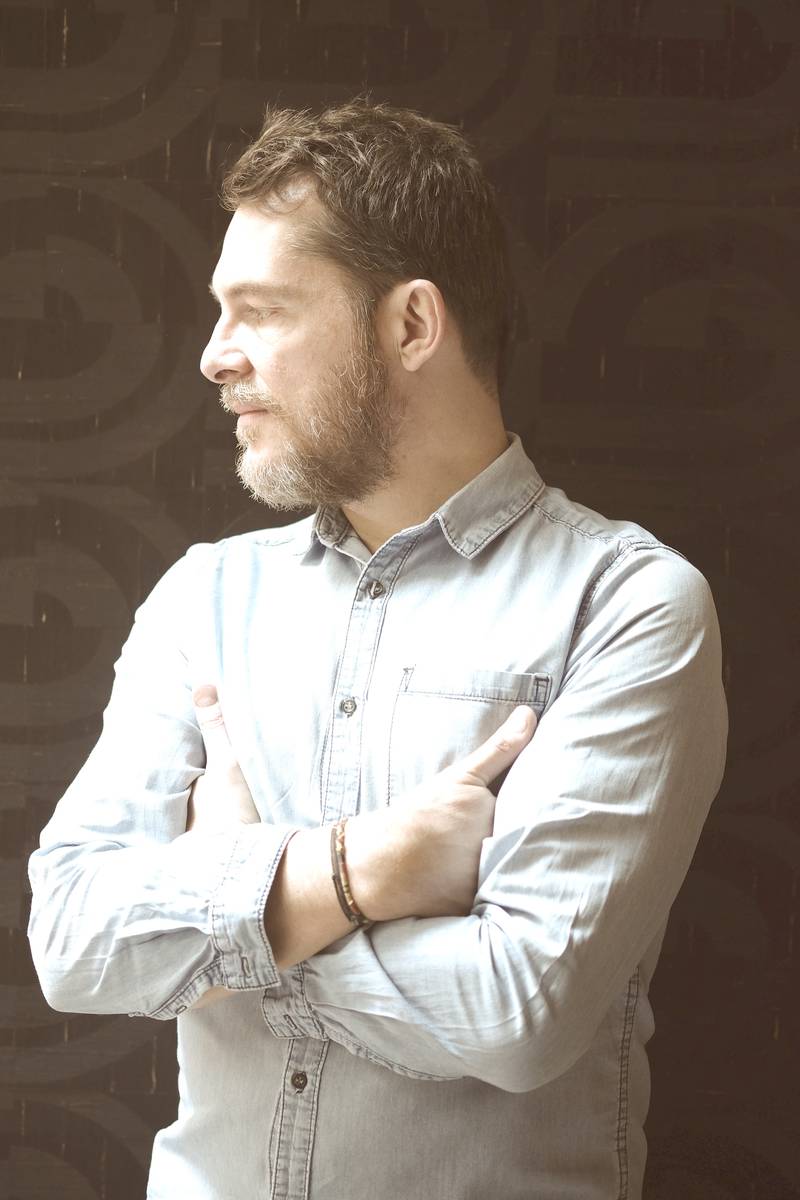 In a time in which laser can cut just about any drawing in any material, and in which 3D printers can infinitely reproduce identical shapes, François Mascarello uses the strength as well as the fragility of manual techniques in his creations. It is through his mastery of the material constraints that he brings to life the emotion that is indispensable to art.

Painter, sculptor, designer but also craftsman, François Mascarello makes hand-painted wallpapers, screens, bas-reliefs and stucco objects sometimes decorated with leather or straw marquetry and with an aura of the Decorative Arts as well as of the Illumination. Juggling with different materials and art techniques, he pushes his expertise to new limits in order to constantly invent new works, both singular and familiar. His ambiances are contemporary exactly because they are so timeless. François Mascarello's decors are known: in 2018 Le Dôme restaurant and the Fauchon Hotel in Paris, for which he produced custom hand-painted wallpapers, are amongst his latest projects.

In François Mascarello's words: "My painting already tended towards the abstract and the quasi-choreographic movement. Today, the architectural impulse is integrated as much as possible, the idea being to explore all of the dimensions of the possible: from the smallest to the greatest, from the deepest to the lightest, from the most elusive perspective to the most intimate line."

For Galerie BSL, François Mascarello created both mysterious and refined light sculptures. Each of these works in the 'Edifice' collection are like « scaled architecture for the home » alive with light bouncing off of the straw marquetry and glowing through the different openings. Produced in immaculate white waxed stucco, they are glowing edifices, the interiors of which are entirely covered in straw marquetry of a subtle blue, grey and beige dégradé. They take on a new and different appearance depending on the angle from which they are viewed: a cubist home in the spirit of Le Corbusier or a skyscraper-like impressive vertical building.

François Mascarello's 'Dynamic Landscape' screen/room divider is five meters in length and composed of three freestanding panels that naturally interact, creating one unique piece. This unusual screen associates stucco and straw marquetry and is viewed as if seen from a passing train like a landscape flying by leaving the viewer with the memory of the impressionist colors of the marquetry as the piece glides off into the horizon like fields and trees under the sky.

François Mascarello not only seals the link between a rich heritage and a stark modernity, but also the ballet between the actor who dances a choreography interpreted into objects and the spectator who receives and feels it through its physical presence.
A l'heure où une machine peut découper au laser à peu près n'importe quel dessin dans n'importe quel matériau, et où une imprimante 3D peut reproduire une forme identique à l'infini, le travail de François Mascarello, lui, s'attache à traduire dans l'espace la force du geste manuel autant que sa fragilité. C'est par cette trace du savoir-faire et de la contrainte matérielle qu'il fait naître l'émotion indispensable à toute oeuvre.

Peintre, sculpteur, designer, mais aussi artisan, François Mascarello réalise papiers-peints à la main, paravents, bas-reliefs et objets de stuc, parfois rehaussés de marqueterie de cuir ou de paille, qui évoquent autant les arts décoratifs que l'enluminure. Jonglant avec les matières et les techniques artistiques, il expérimente sans cesse afin de créer des oeuvres à la fois singulières et familières et des ambiances contemporaines car précisément intemporelles. Parmi ses projets livrés en 2018 figurent les prestigieux restaurant Le Dôme et l'Hôtel Fauchon à Paris pour lesquels il a réalisé des papiers peints à la main sur mesure.

« Ma peinture tendait déjà vers l'abstraction et le mouvement quasi chorégraphique. Aujourd'hui s'y ajoute une pulsion architecturale, l'idée étant d'explorer toutes les dimensions du possible : du plus petit au plus grand, du plus profond au plus lumineux, de la perspective la plus fuyante au trait le plus intime. »

Pour la galerie BSL, François Mascarello a imaginé des sculptures lumineuses à la fois mystérieuses et raffinées. Rassemblées dans la collection 'Edifice', chacune de ces « micro-architectures pour la maison » présente quatre façades en stuc d'une blancheur immaculée. L'intérieur est entièrement tapissé de marqueterie de paille associant en dégradé des tonalités de bleus, de gris et de beige. La lumière rayonne et se diffuse par les fenêtres et autres ouvertures, se réfléchissant sur les faces intérieures en marqueterie de paille. Ces micro-architectures prennent une apparence nouvelle et différente en fonction de l'angle sous lequel elles sont regardées : maison cubiste dans l'esprit de Le Corbusier ou impressionnant bâtiment dont la verticalité évoque les gratte-ciel.

Le paravent 'Dynamic Landscape', d'une longueur de cinq mètres, est composé de trois panneaux individuels qui s'associent et interagissent naturellement pour créer une seule et même pièce. Associant stuc et marqueterie de paille, ce paravent se présente comme un paysage envisagé à travers la fenêtre d'un train passant à grande vitesse, laissant dans la mémoire du spectateur les couleurs impressionnistes des champs, des arbres et du ciel au fur et à mesure que le paysage disparaît à l'horizon.

François Mascarello réalise le trait d'union entre un patrimoine riche et un dépouillement moderne, mais aussi et surtout entre l'acteur qui exécute une chorégraphie traduite en objets, et le spectateur qui la reçoit et la ressent en leur présence.