Back
Ayala Serfaty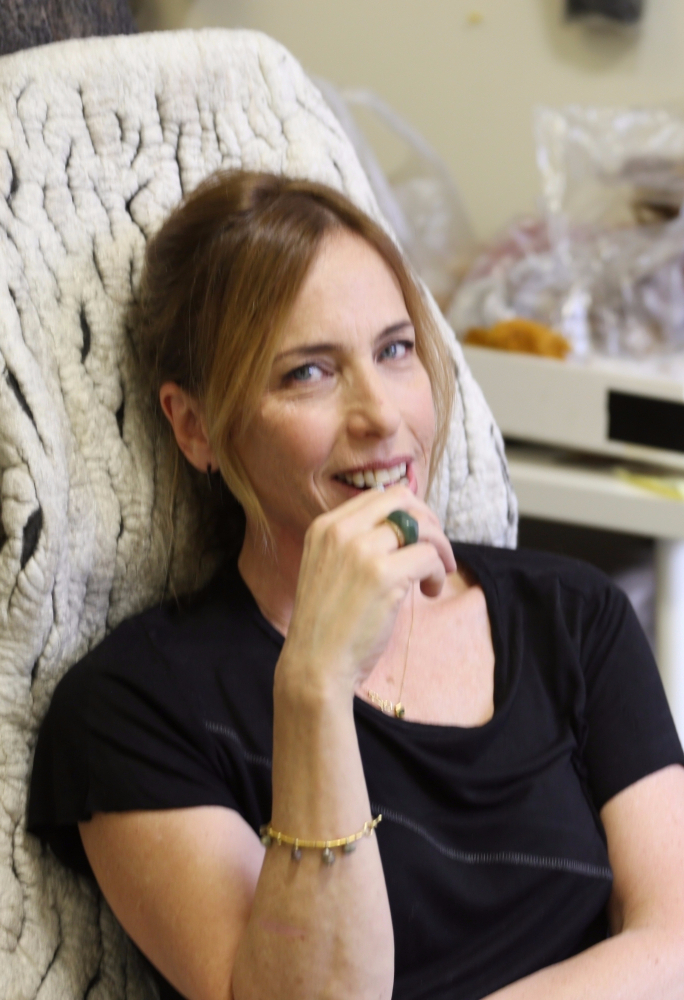 Since the 1990's Ayala Serfaty has forged a unique path in the world of contemporary design, creating and crafting conceptual lights and furniture. Her work has been described by scholars as 'multi-disciplinary', as 'fusion of art, craft, and design', and as defusing the line between the natural and the abstract. Her approach focuses on ancient traditions, striving to revive their spirit and energies in unorthodox, unexpected, and innovative manner.

Ayala Serfaty has become globally known for her 'SOMA' sculptural lights: fascinating intangible luminous sculptures reminiscent of biomorphic forms notably included in the permanent collections of the Metropolitan Museum of Art and the Museum of Arts and Design in New York.

Each 'SOMA' work is unique and handmade of thin glass rods encapsulated in a translucent polymer membrane that magnifies the glass calligraphy-like sculpture. 'SOMA' captures the viewer's gaze, bringing him to experience nature in its spiritual and emotional dimensions. The assertion of life forms and at the same time the impossibility of deciding between one or the other introduces an irresistible movement toward the sublime. For Ayala Serfaty does not sculpt nature, but rather gives form to the breath of life.

In her recent series, 'RAPA', Ayala Serfaty creates furniture made of handmade textile, crafting felt out of wool, linen and silk fibers which she carefully gathers from all over the world. 'RAPA' is not a departure, but rather a renewed connection with textile, the materiality that came to inform her work from its very beginning. Resembling a rocky surface but very soft to the touch, these seats defy the usual sensory frontiers while incarnating the physical, terrestrial character of life.

Ayala Serfaty was born in Tel Aviv in 1962. She is a graduate in Fine Arts of the Bezalel Academy of Art and Design, Jerusalem, and of the Middlesex Polytechnic in London. She lives and works in Tel Aviv. For over twenty years she has exhibited in museums worldwide such as the London Design Museum, the Cooper Hewitt Museum, le Centre Georges Pompidou, just to name a few. Her work is included in the permanent collections of numerous museums in the US: Metropolitan Museum of Art, NY, Museum of Arts and Design, NY, Museum of Fine Arts in Boston, Museum of Fine Arts in Houston, Mint Museum, Corning Museum of Glass, Indianapolis Museum of Art.
Depuis les années 1990, Ayala Serfaty s'est forgé un chemin unique dans le monde du design contemporain comme auteur de sculptures lumineuses et de mobilier d'inspiration conceptuelle. Son travail, décrit par les spécialistes comme « multi-disciplinaire » et « fusion de l'art, de l'artisanat et du design », réconcilie la nature et l'abstrait. Son approche s'attache à faire revivre l'esprit et les énergies des traditions anciennes de manière innovante et inattendue.

Ayala Serfaty a acquis une renommée internationale avec 'SOMA', sculptures lumineuses d'une fascinante immatérialité aux évocations biomorphiques, notamment inclues dans les collections permanentes du Metropolitan Museum of Art et du Museum of Arts and Design à New York.

Chaque oeuvre 'SOMA' est unique et réalisée à la main à partir de fines tiges de verre enrobées dans une membrane de polymère translucide qui vient magnifier la sculpturale calligraphie de verre. 'SOMA' retient le regard, amenant le spectateur à faire l'expérience de la nature dans ses dimensions spirituelles et émotionnelles. L'affirmation de formes propres à la vie et dans le même temps l'impossibilité de décider entre l'une ou l'autre, introduit un mouvement irrésistible vers le sublime. Car Ayala Serfaty ne sculpte pas la nature, elle donne forme au souffle de la vie.

Dans la récente collection 'RAPA', Ayala Serfaty crée des pièces de mobilier avec un textile réalisé à la main dans son atelier, le feutre étant travaillé à partir de fibres de laine, de lin et de soie sourcées avec soin dans le monde entier. 'RAPA' n'est pas un nouveau départ, mais plutôt une reconnexion avec le textile et une matérialité qui infuse son travail depuis ses tous débuts. Visuellement comparables à des surfaces rocheuses, mais infiniment douces au toucher, ces assises brouillent les repères sensitifs habituels tout en affirmant le caractère physique et incarné de la vie.

Ayala Serfaty est née à Tel Aviv en 1962. Elle est diplômée en Beaux-Arts de la Bezalel Academy of Art and Design, Jérusalem, et du Middlesex Polytechnic de Londres. Elle vit et travaille à Tel Aviv. Son travail a été exposé dans des musées du monde entier tout au long de ces vingt dernières années, parmi lesquels le Design Museum de Londres, le Cooper Hewitt Museum et le Centre Georges Pompidou. Son oeuvre est présente dans les collections permanentes de nombreux musées aux Etats-Unis : Metropolitan Museum of Art, New York, Museum of Arts and Design, New York, Museum of Fine Arts, Boston, Museum of Fine Arts, Houston, Mint Museum, Corning Museum of Glass, Indianapolis Museum of Art.